The classic supercar investment boom that Maxim explored a few years ago is about to pay off big time for the owner of this blazing yellow Ferrari F50, which is due to cross the auction block at Sotheby's Sealed sale in early October.
In 2020, RM Sotheby's sold a 1995 Ferrari F50 with 5,162 miles on the odometer for just under $3.8 million, according to data retrieved from Classic.com . Then, in August of 2022, a 6,193-mile example was sold by Gooding & Company for just over $4.6 million. And in March of this year, an 834-mile example, again sold by RM Sotheby's, cracked $5 million.
This 5,600-mile 1997 Ferrari F50 will likely fetch up to $5,000,000. Color is also a major factor. Of the just 349 F50 examples produced between 1995 and 1997, a vast majority were finished in Ferrari's trademark Rosso Corsa, including all of the models listed above. This example is chassis no. 107060, was one of just 31 that left the factory in "Giallo Modena" yellow, making it 10 times as rare as any Rosso Corsa counterpart.
Aside from the F50's sales, it is one of the few remaining old-school classic supercars. The 4.7-liter V12—a screamer with an 8,500-rpm red line that was derived largely from the F1 engine raced by Scuderia Ferrari until 1991—originally channeled 513 horsepower and 347 pound-feet of torque to the rear wheels through six speeds on the floor. The Pininfarina-designed carbon fiber body was formed in wind tunnels, with deep air intakes in the front hood, a curvier take on the 1989 Ferrari Mythos Concept's shell, and a gargantuan rear wing similar in stature to that of the preceding F40.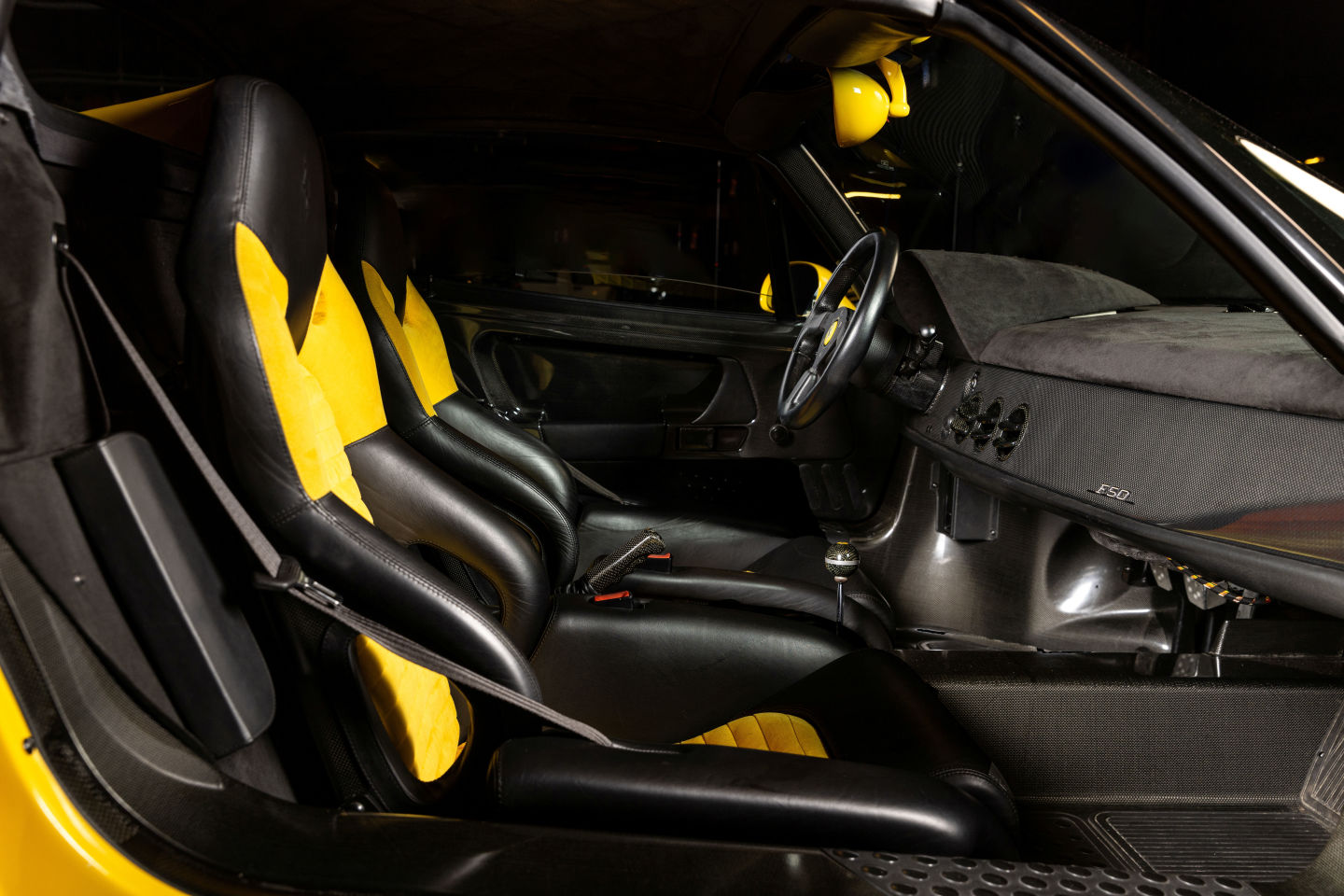 Sotheby's Sealed has more information on chassis No. 107060's provenance service record:
According to Marcel Massini of Ferrari Market Letter in May 2000, the car had only travelled 3,000 kilometers. In 2002 it was reported that the car had been registered in Japan. The Ferrari was purchased by the consignor and imported to Taiwan where it remains today. Driven regularly though sparingly, the striking yellow supercar wore the instantly recognisable and cherished registration number '8888-GT'.

(Sotheby's Sealed)

The F50 was subject to ongoing maintenance while in the current owner's care, with no fewer than 11 invoices on file from Tainan-based Jun Hui Car and a further nine from Modena Motori Taiwan Co. Ltd—the country's first official Ferrari dealership. Jun Hui Car performed a variety of services, including installation of an exhaust system by Tubi on 16 December 2008. The company also installed new brake pads and replaced the clutch on 28 March 2010; these were amongst other works. Modena Motori Taiwan repainted the bumper of the front on 12th March 2013, at a price of NT$25250.

Oil changes were carried out by the firm in 2013, 2014, 2016, and 2021, while on 18 October 2016, an assessment notes that only the non-standard Tubi exhaust and HID headlamps—fitted while in current ownership—should be returned to factory specifications before applying for Ferrari Classiche Certification. Treasuremax in Taipei repaired the coolant tank on 28th March 2023.
This Ferrari F50, dubbed "Maranello's Best Kept Secret" by Sotheby's Sealed, is expected to fetch anywhere from $4 to $5 million at its auction, scheduled for October 2-5.