Death Valley National Park in California and Nevada is the ultimate geological wonder. Home to the lowest point in North America and one of the greatest vertical rises above local terrain of any mountain in the contiguous United States, Death Valley is an example of the Earth's vast geological contrasts, all located within a 3-million-acre national park.
The largest, hottest and driest of the national parks in the United States, Death Valley provides stunning views of a vast desert that includes incredible geological sites you won't see anywhere else. It's truly extraordinary.
Geologic Forces of Death Valley National Park
"The number of geologic forces at work in Death Valley makes it unique," says David Blacker, executive director of the Death Valley Natural History Association. "Erosion, faulting, the pull of the basin and range formations — add a double rain shadow (an area of significantly reduced rainfall behind a mountainous region), and you get a unique landscape that has to be seen to believe."
Death Valley's features include deep valleys, high mountains and a variety of unusual rock formations that have developed over millennia. Standing in Death Valley, you are looking through a time-capsule.
"The earliest Death Valley rocks were sedimentary, and deposited about 2.5 billion years ago, while the area we know as Death Valley was under a shallow sea," says Blacker. "Ten million years, ago Death Valley was a Lowland Basin with grasslands. Of course, over that time it has become much more arid, and the double rain shadow has locked it in as the hottest and driest place in North America."
Explore Death Valley National Park
It can take years to explore the backcountry to uncover all of Death Valley National Park's geological wonders. However, there are a few stunning sites that allow visitors to experience this incredible place from their vehicle.
Artists Palette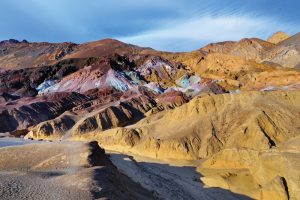 Artists Palette, located in Death Valley National Park, is one of the most beautiful and easiest places to reach. Artists Palette is a collection of hills that are splattered with colors such as red, green orange, yellow, pink, and blue. It was formed from volcanic deposits rich iron oxides and chromite. Iron compounds produce colors such as red, pink, and yellow. Mica, derived from tuff, produces green. Manganese produces purples and blues.
These hills, formed in the Miocene, are composed of playa deposits, volcanic debris and cemented sand. Some places, they can reach a thickness of up to 5,000 ft. The colors are the result of chemical reactions that occur during different forms of weathering.
Artists Palette Drive is a nine-mile paved road where visitors can see the hills up close. The hills were formed from water erosion. The best time to see the hills is at sunrise and sunset when the angled sunlight provides brighter colors on the rocks—although the colors are stunning at any time of day. The road also provides a view of the Black Mountains and nearby salt flats.
Zabriskie Point
Zabriskie Point, in Death Valley National Park, is popular with visitors who want to see the landscapes at sunrise and sunset. But those interested in the site's geological treasures will appreciate this spot at any time of the day.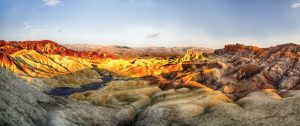 Furnace Creek Formation, a 7,000-foot-thick formation, is visible from Zabriskie Point. This formation consists of saline-muds, gravels, and volcanic ash that was once present in the Black Mountain Volcanic Field. The formation is characterized by sandstones and clays of a tan color, showing deep erosion. Dark-colored rocks are visible on the ridgelines created by volcanic eruptions. You will find Red Cathedral in the west, which is a geological structure of steep cliffs made of oxidized red sandstone.
Zabriskie is easy to reach for visitors. There is a large car park just off of the main park road, and you can walk to the vista point in a few minutes. Plan to visit during the daytime, as most people are at Zabriskie Point between dawn and dusk.
Badwater Basin
Badwater Basin's depth of 282 ft below sea level is more than an anomaly. The basin is an endorheic one, meaning that the water collected here doesn't flow into any other bodies of water. The water collected in this basin over the past tens-of-thousands of years has only evaporated. The result is a 200-square-mile basin floor made up of mostly sodium chloride—table salt—with calcite, gypsum and borax thrown in. This salt and sediment accumulated is over 11000 feet deep.
The boardwalk stretches a mile over the bottom of the basin. It is a great way to see this white, snowy salt. The cliffs of the Black Mountains are just behind you to the east, and you'll see a marker on a cliff showing how far you are standing below sea level. To your west, the towering 11,039-foot Telescope Peak rises out of the valley floor, giving you a dramatic perspective you won't see anywhere else in North America.
Look into the small, highly-salinized spring near the start of the boardwalk. Badwater snails, a fish found nowhere else on Earth, live there.
Ubehebe Crater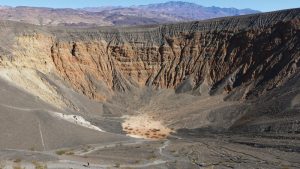 Ubehebe Crater can be found in Death Valley National Park's northern section. It is a 600-foot deep hole in the earth. A volcanic eruption took place 2,000-years ago and created the half-mile-wide crater. Ubehebe crater was created when molten lava came in contact with groundwater about 200 feet under the surface. The heat of the lava caused water to turn into steam. This created incredible pressure which built up, exploded and left the massive crater behind.
As you drive from North Highway up to the Ubehebe Crater parking area, you'll see cinders from other similar volcanic explosions covering much of the surrounding area. On the valley floor, north of Ubehebe Crater and the surrounding craters you can find cinders lying on the dried bed of Lake Rogers. The cinders that cover most of the valley floor came from Ubehebe Crater and are up to 50 feet thick.
Colorful layers in the crater's eastern wall are the result of the explosion. Calcite loosely cements together a fanglomorate deposit, sandstone, and older conglomerate in the alluvial fans inside the crater. The majority of rock in the crater was either metamorphic or volcanic.
The Ubehebe Rim Trail is a moderate 1.5-mile loop that provides a view of the sedimentary layer left behind by explosion. The rugged trail that descends into the crater's interior is the best way to get close to it.
Racetrack Playa
Since Death Valley National Park's creation in 1933, both visitors and scientists have wondered over the phenomenon of the Racetrack Playa. This level, dry lakebed is home to rocks made from dolomite and syenite—the same minerals found in the surrounding mountains. The Sailing Stones are rocks that range from a few ounces up to several hundred pound and show evidence of movement in the dry lake bed. While observers have not seen the rocks actually moving, trails in the mud-cracked sediment and changes in the rocks' location indicate they are anything but stationary.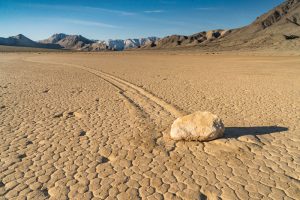 In 2014, researchers conducted research which seems to explain the reason why rocks move. Water that has fallen from the nearby mountains settles into the lakebed and freezes. This creates a thin ice layer. The rocks will slide when the ice is present.
Even though this has solved the mystery, Racetrack Playa still is a sight worth seeing. From Ubehebe Crater (a few miles north), head to Racetrack Playa. You'll need a 4-wheel drive vehicle with high clearance to drive the road that leads to the Racetrack from Furnace Creek, and is only recommended in the wintertime.
Death Valley National Park is a Rockhound Destination
Death Valley National Park is one of the most spectacular geological sites on Earth. Not only it is a spectacular destination for rock hounds, it's also a goldmine for researchers who want to learn about the geological history of the planet.
"The climatic conditions make it an ideal geologic laboratory because the lack of vegetation makes it so there is little to obscure rock characteristics," says geologist Gregg Wilkerson, co-author of Roadside Geology and Mining History of Death Valley. "Over the next million years, the pull-apart basin will continue to grow, the valley will get broader and the mountains will get higher."
Death Valley was around long before humans ever walked on the Earth. It will probably still be there when we're gone. You will never forget the feeling of awe you get after spending some time at this incredible place.
Death Valley: A Visit
Death Valley National Park, a jewel of the National Park System, can also be dangerous if you are not prepared. To stay safe, follow these guidelines:
• Avoid visiting the park at times of extreme summer heat.
• Always carry several gallons of drinkable water in your vehicle.
• Stay on marked park roads; don't explore.
• If you want to walk in an area without an official parking area, don't venture out of sight from your vehicle.
• Don't rely on your mobile phone. There are many areas in the park that do not have any service.
• Stop at one of the park's visitor centers for maps and more information on staying safe in Death Valley.
• Be sure to visit nps.gov/deva/index.htm to plan your stay.
This story about the geology of Death Valley previously appeared in Rock & Gem magazine. Subscribe here! Audrey Pavia, story and photos.
The post Death Valley National Park Geology first appeared on Rock & Gem Magazine.