BMW's Intelligent Emergency Call button layout. (BMW/)
BMW revealed its first 2024-spec motorcycle model for the US market. It includes a variety of new colors, option packages, and the Intelligent Emergency Call system.
We're going to have to wait a little longer for the reveal of entirely new models, led by the highly anticipated R 1300 GS that's confirmed to be coming at an unveiling in Berlin September 28. BMW announced that the CE 04 and C 400 GT Scooters, G 310 Range, R 18 and S 1000 R, RR and M 1000 R, K 1600, and K 1650 lines will be available in 2024.
The Intelligent Emergency Call System is the most notable technical update. It will be included as standard in the R 1250 2024 range, R 18B and Transcontinental models, S 1000 R, RR and CE 04, and it will also be available on all other models. F 900 R/XR buyers will have the option to upgrade the system at an additional cost. It features a red "SOS" button on the left-hand bar end, protected by a flip-up cover. It connects you to BMW Motorrad Connected Services and can call emergency services in case of need. This feature also operates automatically when the bike is tipped over or sensors detect a collision.
We'll list the new model updates and colors below, but the list of changes is perhaps more notable for the models that aren't included than for those that are. Anything that isn't getting bold new colors for next year is probably set for more substantial updates. We know of some. The R 1300 GS, of course, but also the upcoming M 1000 XR, which was previewed with a demo run at the Isle of Man TT a few weeks ago, and the new R nineT range that's also been teased already. Some are more mysterious. This batch of minor updates does not include the F 850 GS or F 750 GS, for example. Given the existence of the F 900 R and XR, each with an upscaled, 895cc version of the parallel twin that's used (in 853cc form) in the F 850 and 750 models, it wouldn't be a huge leap of logic to suggest the GS models will benefit from the same engine soon. The S 1000 XR is also missing from the latest batch of updates. With the launch of the M 1000 XR due soon it's possible that the lower-powered S version will share some of its improvements.
New colors and updated pricing are also included in the model-by-model changes for 2024. We'll begin with the CE 04, which remains BMW's only all-electric offering. The base model is still available in Light White, but the Avantgarde package adds Imperial Blue Metallic. All variants get the Intelligent Emergency Call, with an MSRP starting at $12,195. Gas-powered C 400 GT receives the same Imperial Blue in its Style Exclusive package and starts at $9,295.
Imperial Blue BMW CE 04 electric scooter 2024. (BMW/)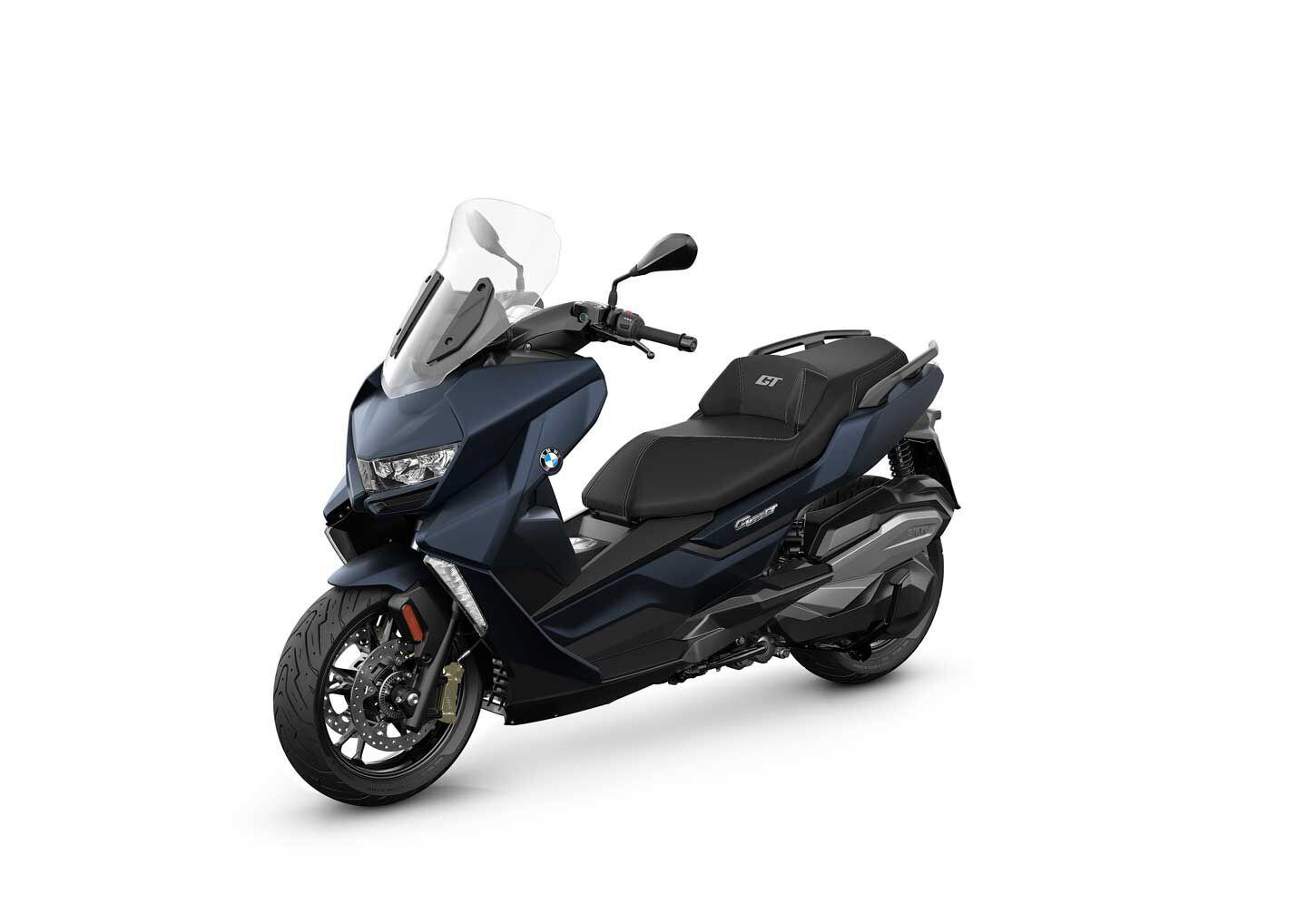 Imperial Blue is also available for the 2024 BMW C 400 GT. (BMW/)
Style Passion is now available in Granite Gray Metallic instead of Racing Red. The $5.695 G 310 GS Style Rallye gets Racing Red paint in 2024. Both bikes have the same technical specifications.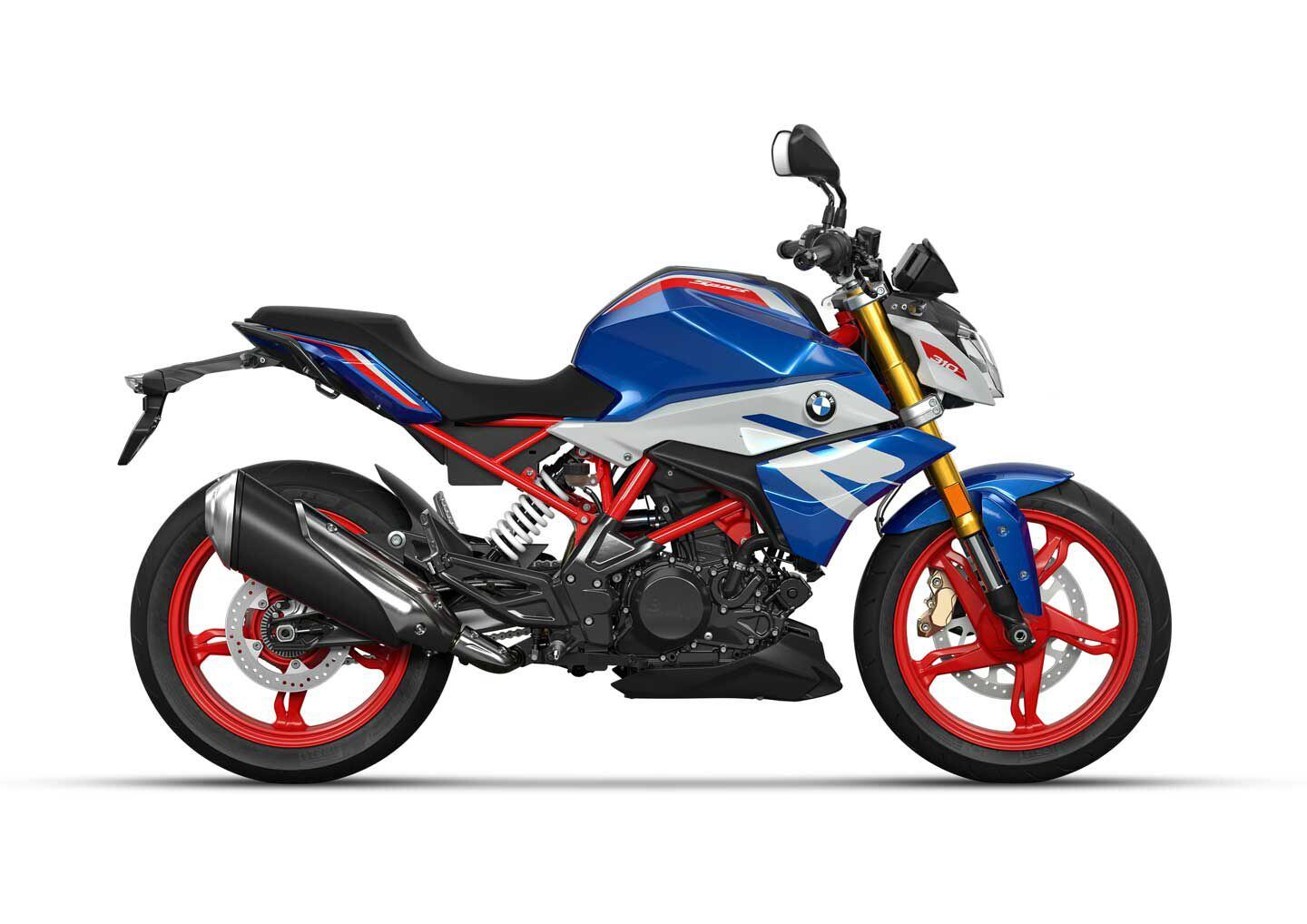 Racing Blue Metallic is the 2024 BMW G310R. (BMW/)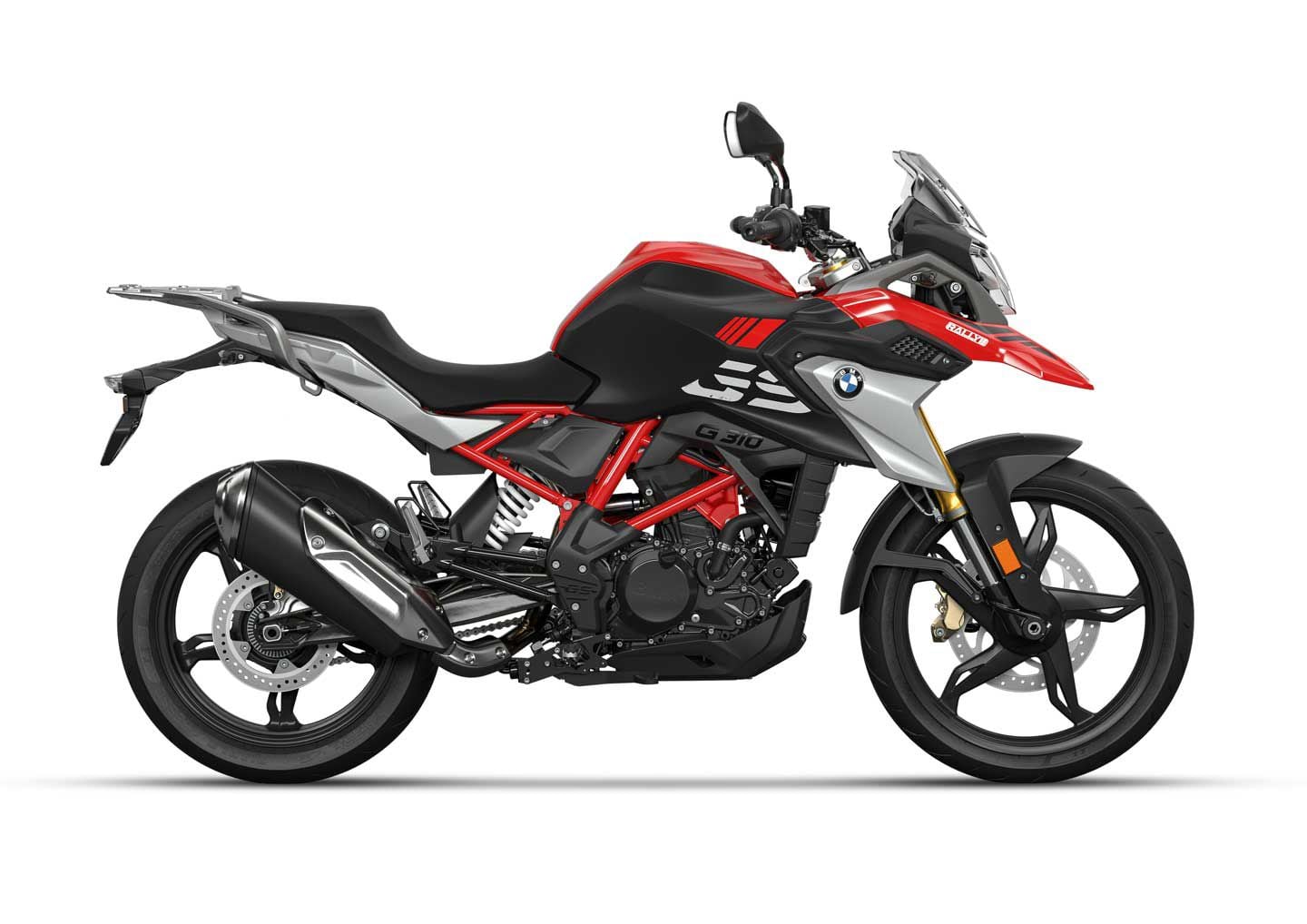 Racing Red 2024 BMW G 310 GS. (BMW/)
In the F 900 range, the F 900 R and XR get the Intelligent Emergency Call feature as an extra-cost option, and the F 900 R's options packages have been revised. The $8,995 F 900 R's Select Package of heated grips and keyless start has been dropped, with the same extras rolled into the Premium Package instead. The Premium Package gains the long-lasting M Endurance Chain and ABS Pro but loses cruise, adaptive headlights, Headlight Pros, centerstands, GPS preparations, saddlebag mounts and tire pressure monitoring. The R's Style Sport color gets new graphics, while a new Triple Black version replaces the old Style Exclusive. The F 900 XR's remaining changes are limited in terms of color, with new graphics and a different shade of blue.
2024 BMW F 900 R.
BMW F 900 XR 2024. (BMW/)
The R 18 is largely unchanged, except for the addition of a new standard feature called Intelligent Emergency Call. Base R 18 starting at $14.995 gets Velvet Green Metallic in place of white on the Option 719. The $17,995 R 18 Classic also gets a few color changes, while the R 18 Roctane, priced at $18,695, is now available. R 18 B starts at $19,945 and comes with a Racing Blue Metallic paint scheme, as well as the new black Option 729. The R 18 Transcontinental is $23,995 but also gets the Racing Blue Metallic, as well as the new Option 719.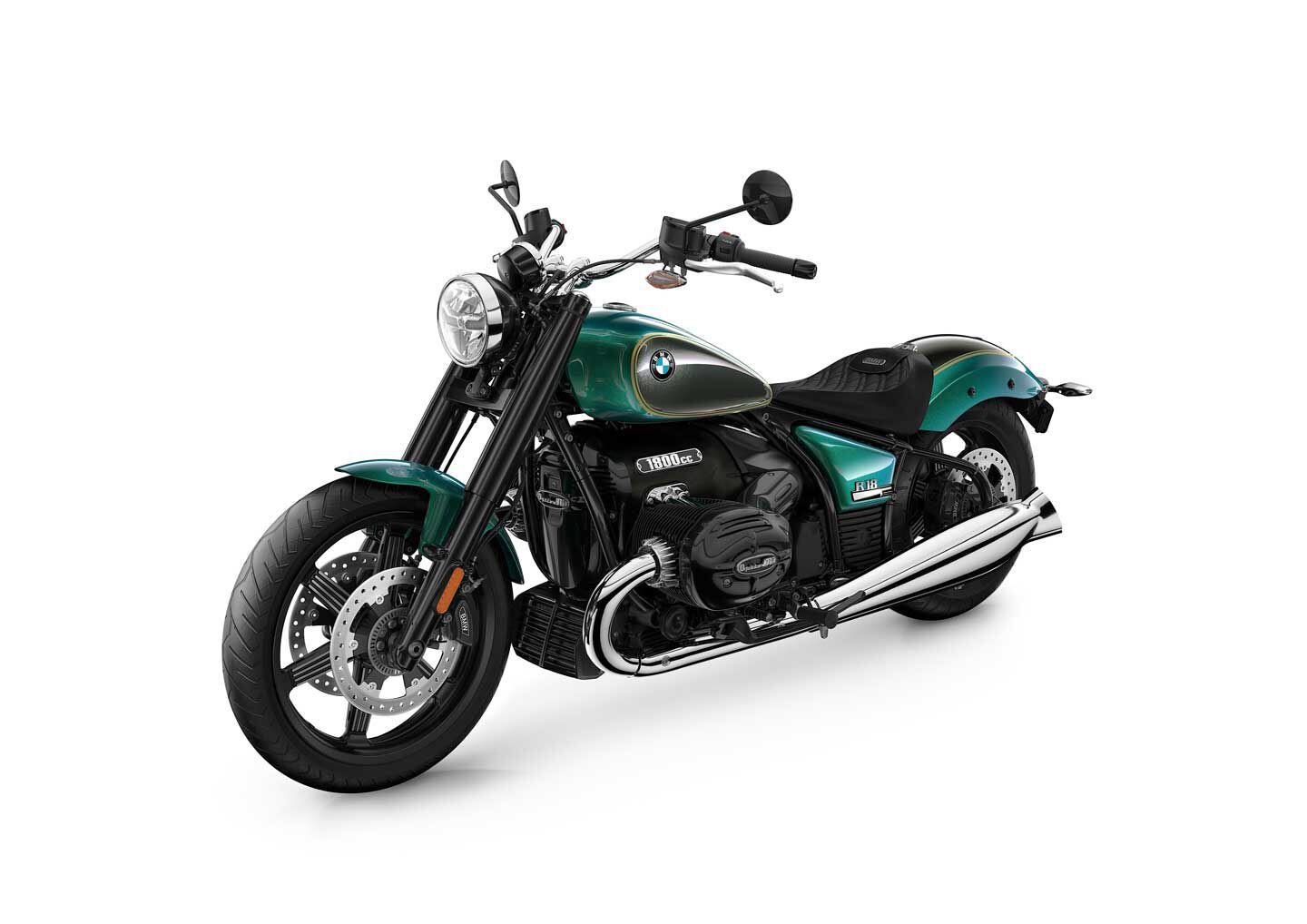 2024 BMW R 18, Option 719 Velvet Green. (BMW/)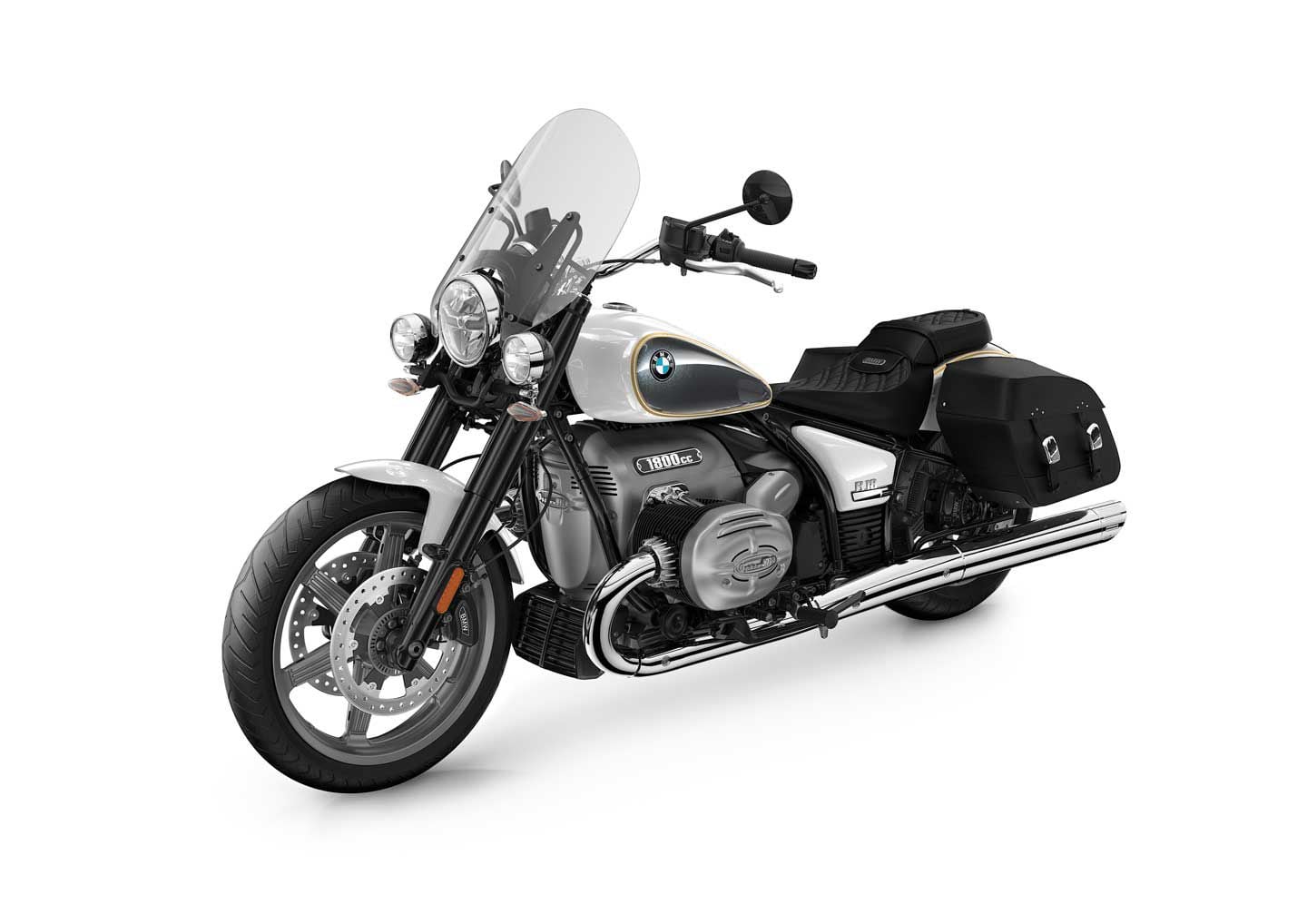 BMW R 18 Classic 2024. (BMW/)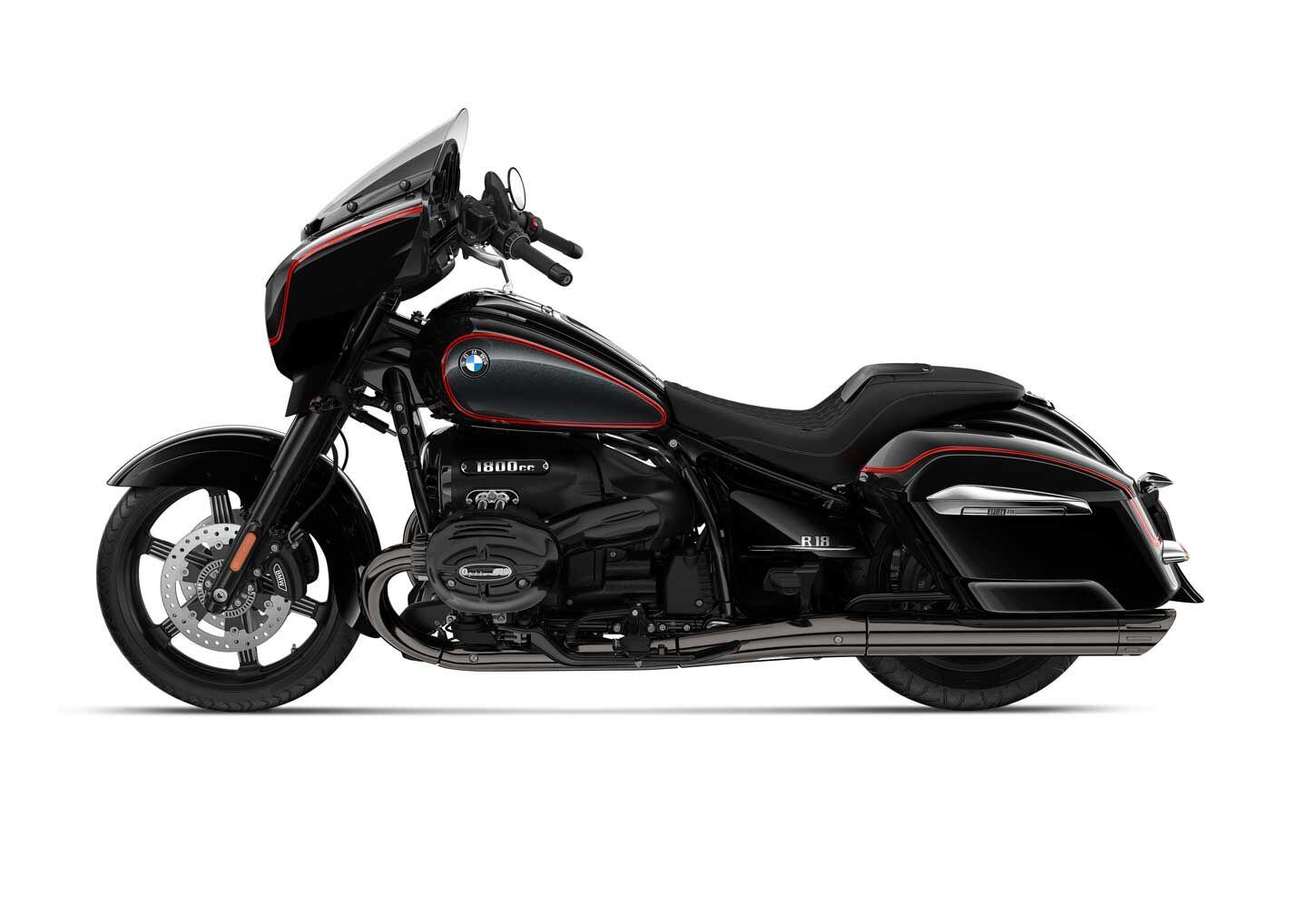 Black 2024 BMW R18B in Option 719. (BMW/)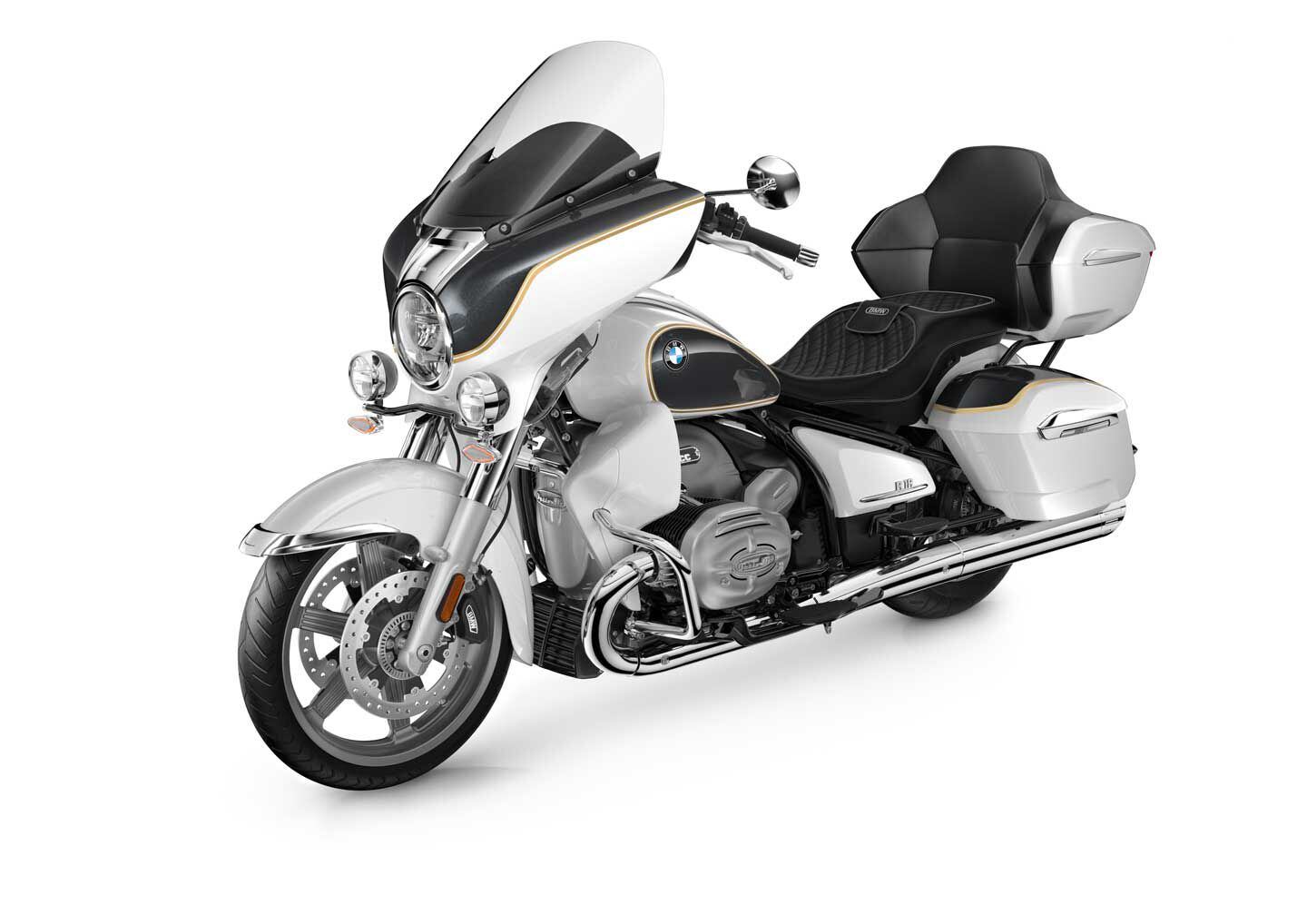 2024 BMW R18 Transcontinental Option – 719 White. (BMW/)
After the R 1300 GS's launch this year, it is likely that the remaining R 1300 GS models will soon be replaced. For 2024, however, the R1250 R and R1250 RT will continue to be available, while the R1250 GS Adventure, R1250 R and R1250 RS Adventure, as well, are all included in the range. All of these vehicles come with an Intelligent Emergency Call standard. Colors remain largely the same except for R 1250 GS Adventure Style Rallye which changes from white/red/blue into Racing Blue Metallic in 2024. There are also changes to the options packages for the R 1250 R. Its Premium Package gains Dynamic Engine Brake Control, Gear Shift Assist Pro, and Ride Modes Pro, but loses the earlier version's cruise control and tire pressure monitor. The tire pressure monitor will be available as an option.
Racing Blue Metallic 2024 BMW R1250 GS. (BMW/)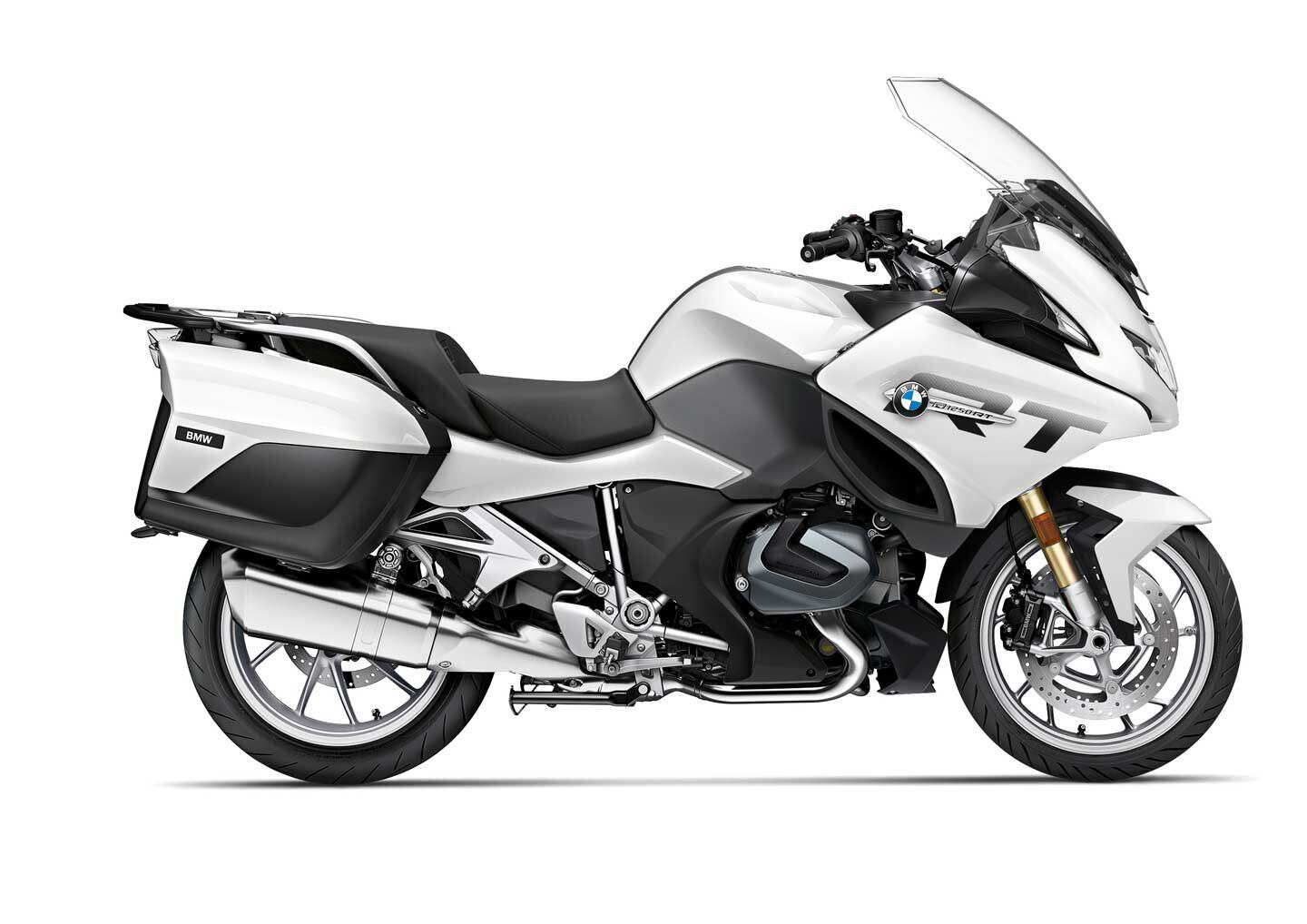 White 2024 BMW R1250 RT. (BMW/)
The Intelligent Emergency Call comes standard on both the $18,295 S 1000 RR and $14,295 S 1000 RR. There are no changes to the color scheme, other than the new graphics for the M Motorsport models and the Style Passion version of S 1000 RR. Both the M 1000 RR & M 1000 R receive a new Ultimate Care Break-in Service as part of their packages.
Finally, there's the K 1600 range of six-cylinder machines, which all get the Intelligent Emergency Call system. K 1600 GT's base model, priced at $24,295, gets a slightly different Havana Meteoric Dust 2 Metallic finish in the $3,795 Option package. The same goes for K 1600 GTL starting at $27,295; both models get a new paint scheme. No color changes are made to the K 1600 B, $22,945 or K 1600 Grand America. However, BMW has noted that the Option 819 packages, which cost an additional $3,999, will end production by October 31, 2023. This could be a hint as to what will happen when we get into 2024.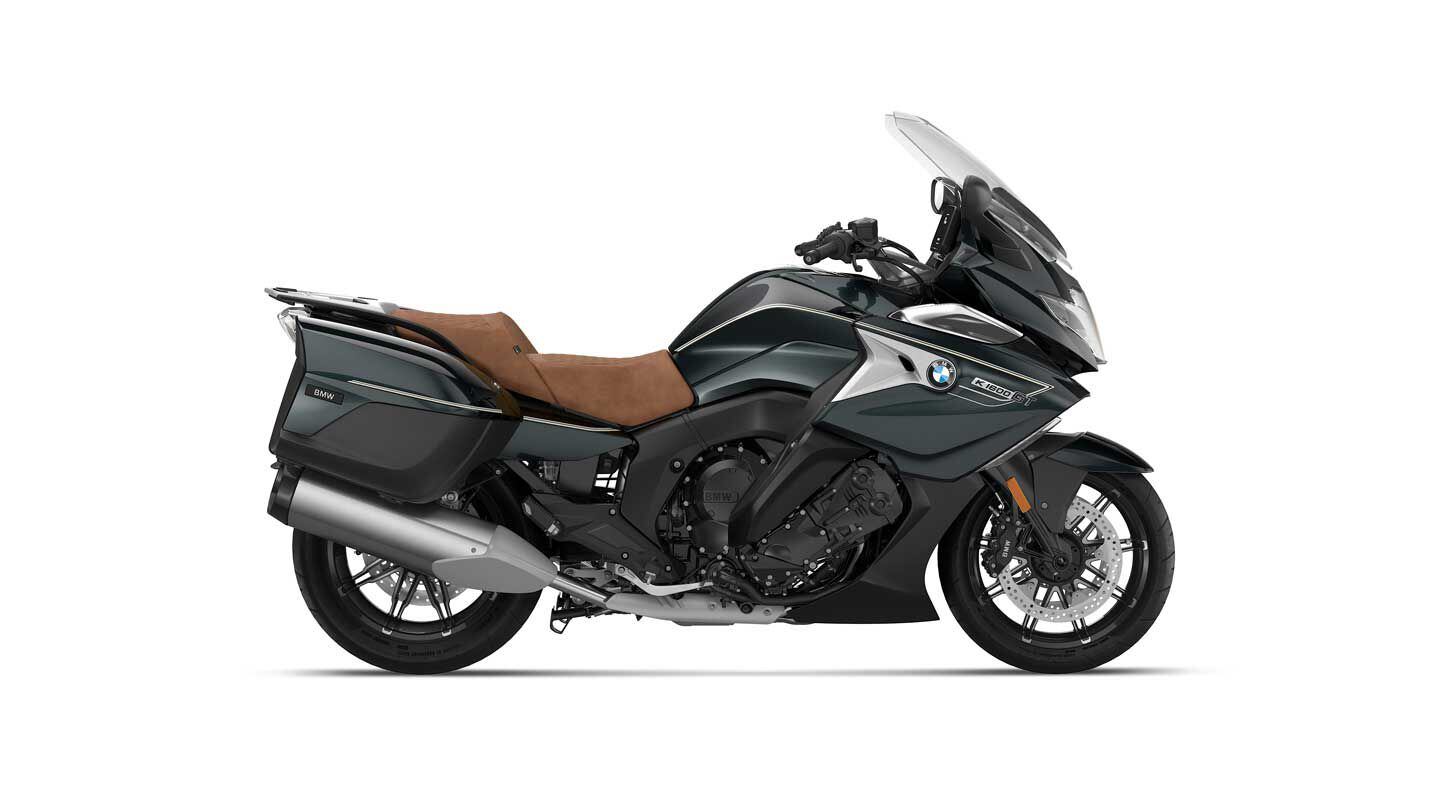 2024 BMW K 1500 GT in Option 719 Havana Meteoric dust 2 Metallic. (BMW/)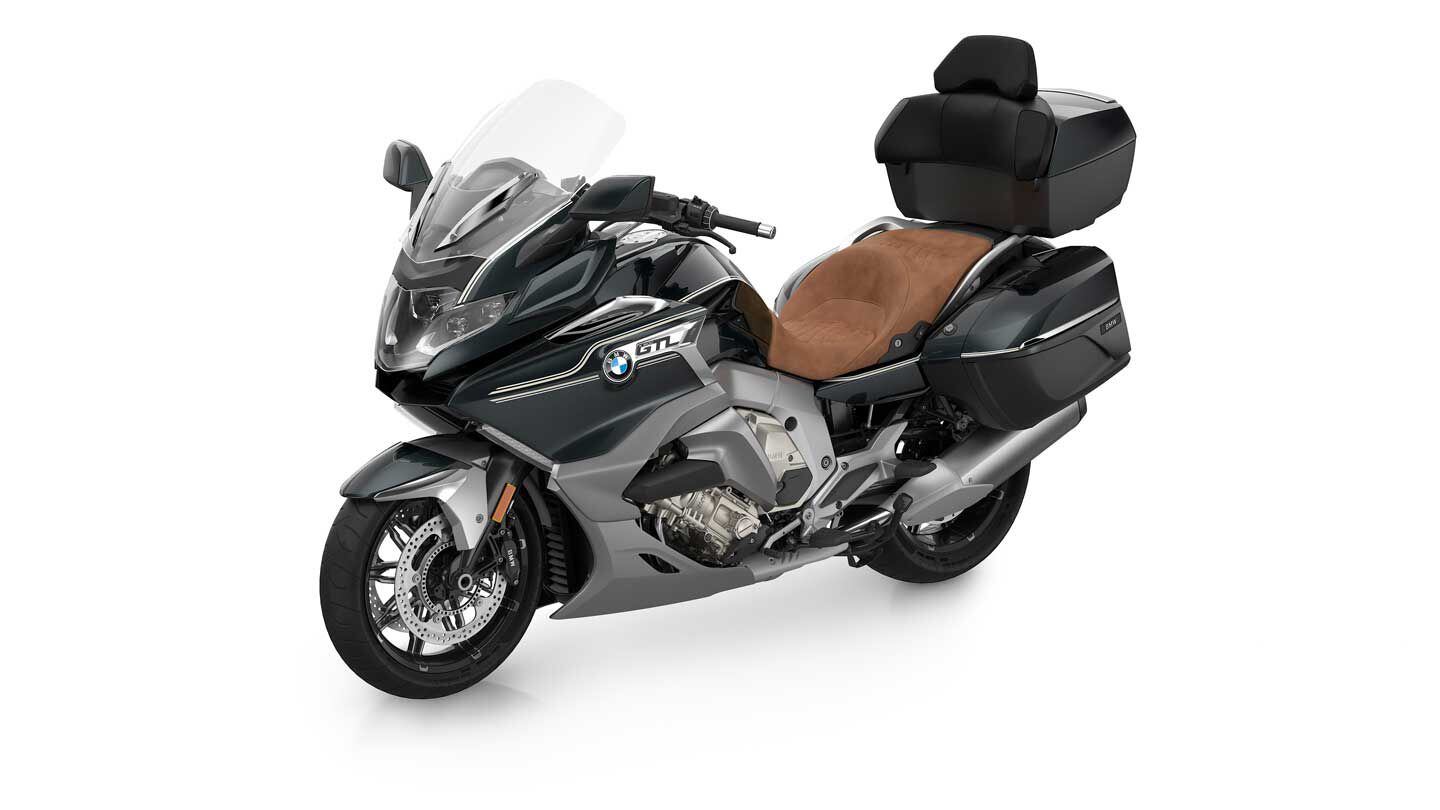 2024 BMW K 1500 GTL is also available in Option 719 Havana Meteoric Dust 2. Metallic. (BMW/)