It's likely that if you are in the automotive aftermarket and see amazing rides being built every day, you'll want your own. The odds are also good that you'll already have a carefully designed image of your dream vehicle in your head before you even begin the search. Jeff Crumpler, from Melbourne, Florida owns Precision Powder Coating, and he adds finishing touches to hundreds trophy-winning cars every year. StreetHeat, a team that is both his regular customer and neighbor, is also one of Jeff Crumpler's regular customers. Matt Verzi, Gavin Broome, and their team have been working in the automotive industry for 20 years. They specialize in creating unique vehicles with StreetHeat touches, including sick patina style rides. They have fans all over the world, and many of their cars are sold to international clients. Crumpler, who wanted to build his own custom vehicle, knew StreetHeat was the right choice. Having been involved with many of their creations throughout the years, his guidance was simple: "Let's make it the best that it can be."
Don't make the mistake of judging this book by its cover. The Mother-Nature-inspired paint job on this '58 GMC pickup was decades in the making and Crumpler felt it was too cool to disturb. However, the true magic lies a little further down. Matt and Gavin searched Craigslist for this truck and located it in Arizona. The body was virtually rust-free and solid. They knew that even though it had a longbed, a simple trimming would be enough to fix it. StreetHeat already had a modified short-bed chassis on hand, boxed front to rear, with a Mustang II front end, signature StreetHeat skeleton frame reinforcements and the company's custom C-notch.
Corvette brake upgrades are one of StreetHeat's favorites, both for efficiency and show. The crew installed Z06 Corvettes at the front, with 14-inch brake rotors. Six-piston Calipers were then used in the rear. Core 3 built the conversion brackets and billet hubs that were used to make the 'Vette brakes work on a Mustang II.
Moving to the rear, the chassis employs StreetHeat's unique leaf spring hangers and 2-link rear suspension that holds a John's Industries 9-inch housing, fitted with a Yukon posi, Moser 31-spline axles and 3.70 gears. A pan hard bar helps keep everything in place.
The final touch was a complete AccuAir air management system using a combination of 2,600-pound 'bags in the rear with 2,500-pound 'bags adapted to the tighter confines up front. AccuAir eLevel uses 3/8″ aluminum hardlines to automatically level itself. The pressure is generated by two Viair 480C compression units and a 7-gallon tank. Paired with AccuAir's iLevel option, Crumpler can use an iPhone app for instantaneous wireless control over the system from more than 100 feet away.
Crumpler, of course, did the entire powder coating for his truck. American Racing VF497 wheels, custom-ground, 20x8s front and rear, transformed the elaborate chassis into a roller. Toyo Proxes high performance tires laid down an aggressive contact pattern with 245/35ZR20s at the front and 345/25ZR20s at the rear.
After the chassis mods were completed, it was time to start fitting the vintage chassis to the body. Trimming the 8 foot bed to fit into the new wheelbase and adjusting the length of the bed began the process. The cedar used for the bed floor was salvaged from an old restaurant that burned down nearby. The wood was refinished with a clearcoat of automotive urethane, stained, and notched. Bed Wood and Parts furnished the aluminum rails recessed into each plank. StreetHeat decided to reveal the chassis, even though the floor looked great. They had put so much effort into the chassis. Matt and Gavin then spent weeks assembling the many systems that will be revealed when the bed lifts. Now spectators can view the custom chassis with the symmetrically arranged air suspension components, ceramic coated dual exhaust and the rear-mounted custom-fabricated fuel tank. To add a touch of nostalgia, the tank is still filled with the original cab mounted filler. With the wood floor in the up position, take it a step further by lowering the tailgate and you'll see that the steel floor was also raised to accommodate all of the new additions. A CNC machine owned by a friend was used to create a mirror of the GMC logo on the tailgate.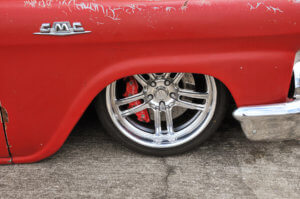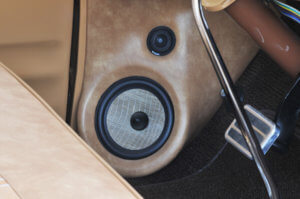 Truck Specifications:
Owner
Jeff Crumpler
GMC 100 1958
Melbourne, FL
Engine
408-ci LS V-8 stroker
Holley EFI High-ram Intake
Holley Dominator ECU
Fast Big Mouth throttle body
Custom cold-air intake with K&N filter
Hooker Block Hugger headers
Ceramic coated exhaust
DynoMax Race Bullet mufflers
Ultra Flo X mufflers with built-in X pipe
Single ultra wide exhaust tip
Champion Radiator
Cal Hartline at Hartline Performance tunes your engine
Burgess Transmission built GM4L65, a four-speed automatic transmission in Melbourne, FL
Customized boot and Lokar Shifter
Suspension
Mustang II Front End
Reinforced frame with C-Notch
StreetHeat 2-link rear suspension and leaf spring hangers with pan hard bar
John's Industries 9-inch rearend housing with 3.70 gears
Yukon posi
Moser axles with 31-spline
Z06 Corvette Brakes with 14-inch Rotors, 6-piston Calipers at the front and 13 inch Rotors, 4-piston Calipers at the back
AccuAir eLevel with iLevel Remote Option
2,600-pound 'bags in the rear with 2,500-pound 'bags up front
Hard lines 3/8″ aluminum
Two VIAIR® 480C compressors
7-gallon reserve tank
Wheels & Tires
20×8 and 20×12-inch American Racing VF497
Toyo T1R Proxes high-performance tires, 245/35ZR20s & 345/25ZR20
Body & Paint
StreetHeat Melbourne FL performs all the work.
Long bed can be converted into a short bed
Cedar bed covered with clear urethane
Aluminum strips for bed wood and parts
Raising the bed floor to accommodate air suspension
The bed rises up to reveal the air suspension and custom chassis
GMC tailgate mirror
Mother-Nature-inspired patina exterior
Interior
Stitch work by Rob at Pete's Upholstery in Melbourne, FL
StreetHeat has painted Creamer Brown with Mocha.
Jeep Grand Wagoneer seats featuring plaid inserts
Matching plaids on the boot and headliner
ididit steering column
A 1959 Impala wheel featuring a GMC horn-button handcrafted by GMC
Whiteface gauges New Vintage
Vintage Air AC Unit with billet controls
GearHead brake pedal with accelerator
Kenwood KMM Bluetooth receiver BT312U
Kick panels with two separate 6.5-inch Focal Flax component sets
JL Audio 10-inch rear seat subwoofer
JL Audio JL Audio 500 Five-channel amplifier under the seat
AGM Gel Cell Battery behind the Seat
Bill and Scott – Stereo at Explicit Customs
After the chassis was completed, the next step was to install the engine. Crumpler approached Dave Hart, a Melbourne-based engine builder, for one of the 6L LS engines that he is known for. The 408-ci V-8 engine is rated for 475 horsepower, thanks to the Holley EFI High-ram Intake and FAST BIG Mouth Throttle Body, both controlled by a Holley ECU Dominator. The custom-built cold-air intake with a K&N air filter gets the air in while the Hooker Block Hugger headers feed a dual exhaust system quieted (a little) by a pair of DynoMax Race Bullets that team up with an Ultra Flo X muffler with built in X-pipe. StreetHeat's trademark is the ultra-wide, ceramic-coated exhaust tip.
Alan Grove brackets are a subtle touch in the engine bay. They mount the air conditioning compressor low, almost out of view. The lines are then concealed behind the powder coated inner fender panel. The Champion radiator is fitted with a StreetHeat shroud custom-made and a 16-inch electronic fans. Burgess Transmission built in Melbourne's heavy-duty GM4L65 4-speed automatic transmits the power of the LS. Cal at Hartline Performance has tuned the LS perfectly.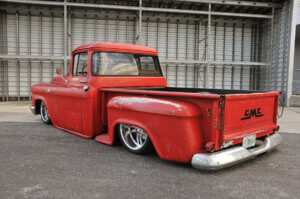 The interior starts with a two tone Creamer Brown and Mocha painted finish that incorporates many modern touches while maintaining some factory influences. The Jeep Grand Wagoneer tartan inserts for the seats and headliner were a first-time approach, but the owner was pleased with the results. Rob at Pete's Upholstery in Melbourne handled the stitch work. The steering column was made by ididit and features a 1959 Impala Wheel, with a GMC Horn Button in the middle.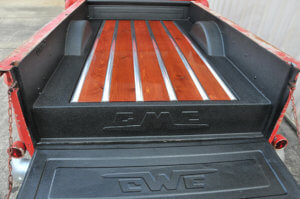 Cool sounds and vintage rides go hand in hand. The stereo in the GMC consists of a Kenwood KMM Bluetooth Receiver with 6.5″ Focal Flax separate component sets in kick panels, JL Audio 10″ sub behind the seats and a JL Audio 550 five-channel amp underneath the seat. Bill and Scott of Explicit Customs built the kick panels and installed the Vintage Air AC unit, including the billet controls. Hamant Air Boats is the company that built the small custom console with the Lokar shifter, custom boot and center console. The fuel cell, which was contoured for the C-notch, was also manufactured by the company. The gauges are New Vintage Woodward Series, and the accelerator and brake pedal are GearHead. The AGM Gel Cell batteries do not emit any fumes so they are safe to mount behind your seat.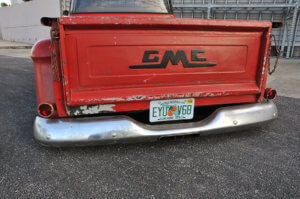 It took about six months to build the truck. Even though it's finished, the truck still makes its way into the shop for minor upgrades. Amazing trucks will always be a work-in-progress. ST
Owner Special Thank You: In addition to the work done at his own firm, Precision Powder Coat, Jeff Crumpler would like to thank the talented teams at Charlie's Customs, Explicit Customs, Pete's Upholstery, Olsen Industries, Hartline Performance, Hamant Air Boats, Inc. and Water Thunder.
Editor's Note: Street Trucks June 2016 issue.
The post BLOOD, SWEAT & GEARS: An Amazing GMC-100 appeared first on Street Trucks.